By mapping out the expected user's journey, we could figure out the features that PIA would help with or just hand-off to other systems, and the modality with which users would interact with PIA to use the features.
Users' Journey with PIA
We were tasked to choose a business with more than two devices including mobile and kiosk. After visiting a number of businesses, we arrived at the airport.
Why the Airport?
Most kiosks we found were operated by each airline, leaving most of the passengers' journeys unsupported.
We thought the resources provided by the Pittsburgh Airport have a lot of potentials but are pretty bare in their functionality right now.
Difficulties in Navigating Information
The PIT mobile application was just a directory of information.
Kiosks in the airport were performing only as a bridge to a few airline software.
1
2
We were tasked to choose a business with more than two devices including mobile and kiosk. There were two points to consider. First, the business should have offline branches. This condition gave us challenges in regards to privacy and hygiene. Especially during the COVID-10 pandemic, direct contact with public devices can be unsafe. Also, no one would like to speak out their personal information like their address to a kiosk when we suppose they are interacting with a VA.
Second, Mobile devices and Kiosks had different advantages in different contexts. With those in mind, we looked around Pittsburgh neighborhoods to find our client who needs our VUI solution.
While ideating pain points, we could generate plenty of frustrating scenarios that we all might have experienced or at least heard of. We mapped out these pain points to help us focus on the problems worth solving and technically plausible (Problem Space).
Pain Point Mapping
Intelligent Assistant for Pittsburgh International Airport
Research, Concept Development, Interface Design, Visual Design, Motion Design
After Effect, Illustrator, Figma, Finalcut Pro
Devika Pillai, Matt Muenzer, Youngryun Cho, Wei-Chei Wang
Overview
Our challenge was to create novel interactions between human(s) and
a virtual intelligent agent

for the company or organization of our choice based in Pittsburgh.
AI-powered Voice User Interfaces (VUI), in particular, have shifted the way users interact with computers or machines. Virtual assistants (VA), a type of VUI, such as Apple Siri, Microsoft Cortana, and Samsung Bixby, can access and analyze users' locations and online activities, and they have become an important means for users to interact with other services and applications. AI has also yielded new types of products, like Amazon Alexa or Google Assistant, and technologies that are widely implemented in smartphones, watches, and vehicles. In this project, we investigated how designers might build systems for VUI in new ways and change the ways users interact with VA.
Meet PIA,
Pittsburgh's intelligent airport assistant.
Schedule Notification and Transit Suggestion
Concept Video 1.
Chad plans his trip with PIA mobile app.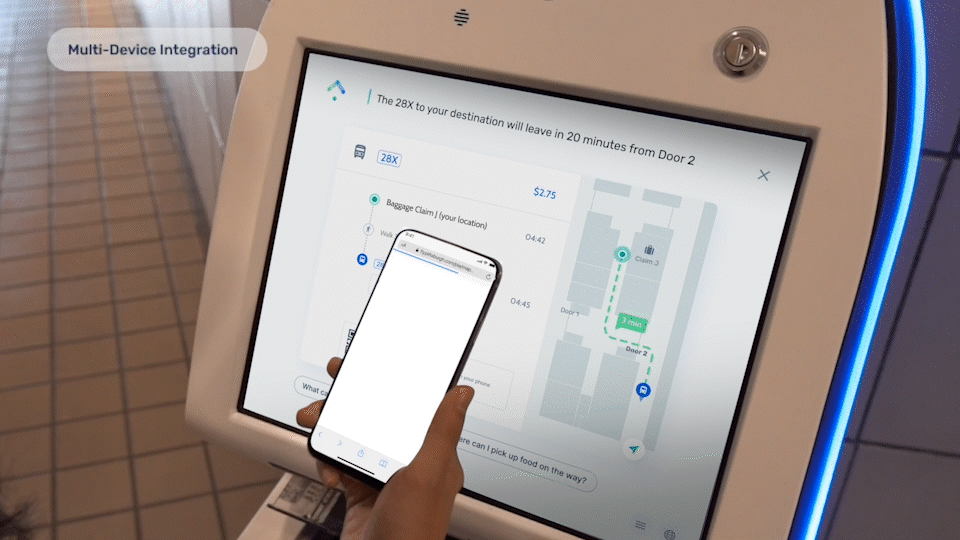 Concept Video 2.
Jin, an international student, arrives in Pittsburgh for the first time.
Building Scenarios
To find out the situations in which PIA would be helpful to passengers, we included,
Frequent User/ Local resident/ Driver who takes a flight, with a delayed flight schedule.

Frequent User/ Local resident/ Driver who takes a flight, with a spouse, two kids, and one elderly.

First-time User/ Foreigner/ Public transit user who lands, at late night, without someone to pick her up.
Talking while Browsing
How users can get into/out of the conversation mode and going back to the previous conversation was also a key flow.
Conversation History
Navigating information in mobile and kiosk are different, which led us to decide to make mobile conversation history is saved, while kiosk conversation just keeps moving on considering it interacts with many other people.
Dialog Suggestion
One thing we thought important was showing suggestions of what users may want to know or request, which also works as instructions of what PIA can help with.
PIA added on home screen
The first thing we considered was integrating PIA into the existing information structure. In this process, we aimed to provide passengers free to choose to start a conversation or navigate GUI while giving easy access to PIA.
While iterating our storyboards, we simultaneously worked on wireframes. Through these two processes, we could refine interactions and make decisions on details.
Integrating PIA to UI
1
2
3
4
Personas
Throughout the initial storyboarding process, we listed up key features and decided to describe two personas' journeys for our demo video.
2
Jin
Arrival/
International/
Late-night arrival/
Baggage problem
Kiosk/
Multi-language support/
Ground Transportation/
Connection to staff
1
Chad
Departure/
Frequent User/
Driver/
Flight Delay/
Mobile app/
Way-finding/
Schedule tracking/
Reservation/ Payment Service/
Discovery
We drew storyboards to give shapes to how PIA helps users.
Storyboards
Visualizing Identity
We wanted our assistant to look or sound like she/he belongs to the airport. As airport experience includes unexpected situation, strict rules, and various groups of peopel, we wanted PIA reliable, neutral, and informed. To create this personality, we set three key words that explains PIA.
Defining Identity
Direct, connected, reliable responses
Decisive
Simplicity and clarity in statements
Straightforward
Proactive and joins the dots
Intelligent
Creating Look and Feel
To develop coherent visual languages, we got inspirations from shapes of mobility, intelligence, and airport spaces. Dots and connecting lines, 3-D shapes, looping motions were main three explorations of our sketches.
Visual Languages
Final form of PIA consists of four dots and lines. These elements were devised considering fluid transitions between states.
Rubik to keep it conversational and lively. Cabin to tap into classic wayfinding and informational aesthetics.
Crisp and confident. Dominant on blue to stay close to aviation and sky shades.
The icon style borrows the translucency and opacity play from the VUI identity.
Adding Motions
We created motions for each states in conversation. Based on wireframes, we defined 8 states and then made transitioning motions between states.
Integrating Screens
Visual elements came together on screen. We added UI feedback including dictation and skeleton UI for clear interaction.
1
Mobile UI
2
Kiosk UI
We believe PIA would help the airport to build an entire traveling ecosystem, it will not only improve passengers' experience but also better serve the airport's economy. Because Pia could connect passengers to the airport's infrastructure like retail, parking, or even local businesses like transportation or accommodation facilities.
Transitions
We listed up cases when transition happens, and created transitioning motions.
Designing Conversations
As a part of designing conversation, we learned about the four modes of conversation. In conversations, there are many implicated deeper meanings behind the letters. To give answers that users want, considering how to guide users to ask was also one thing to consider. Also, understanding how deep current AI technology can catch the context would also be important in building conversations.
Diversity and Accessibility
Featuring an international student in our second scenario was considering the airport context. Jin could have been anyone who needs a wheelchair, is visually impacted, or is a kid. Having a broad spectrum of users let us think and discuss solutions from many different perspectives.
How to define/ How to deliver
Pain point mapping, defining problem space, evaluating solutions. All processes we went through helped us navigate our project in one direction. Prototyping and presenting our design are also a big part of this project. It was a great opportunity to develop new software skills and soft skills.